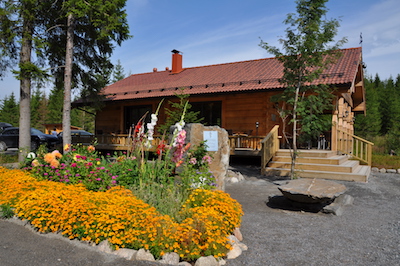 CHURCH CAFÈ 
Right next to the Church of St George the Victorious you'll find church café. The café serves sweet and salty snacks, and you can preorder food for groups. An attempt is made to bake everything served at the café on premises. We use local organic ingredients whenever possible and seasonal produce from our own garden.
FACILITIES
The café seats 50 inside and 35 on the outside terrace. The facilities are suitable for groups to use for meetings as well as religious family celebrations. The church itself can only be used for Orthodox services. Spaces are reserved on a first-come, first-served basis, as long as the reservations don't interfere with church events.
OPENING HOURS 2023
The church café is open 1.6.-27.8. 11 am to 5 pm.
Additionally, the café is open after church services. At other times, the café can be reserved by groups. 
ADVANCE ORDERS
Items from the café menu, like Karelian pies, sweet pastries, sandwiches and cakes, can be ordered in advance.  
INQUIRIES, OFFERS & ORDERS:
All inquiries related to the café, offers and reservations should be sent to info@stgeorge.fi.
You can also reach us by phone at +358 (0)44 076 6927.
PAYMENT METHODS:
All major credit cards are accepted: Visa, Mastercard, Dinerscard, American Express. For groups, we charge an advance.  
CANCELLATIONS:
We always tender an offer for advance orders. If cancelled less than 48 hours before the reservation, we charge 50% of the price. If the order is cancelled less than 24 hours in advance, there is no refund.
Pyhän Georgios Voittajan Kirkko